Feminist Social Media | Waitlist
the one you really want to share

Conventional social media formulas rely on you having and leveraging a dominant identity for visibility, even if it means embracing the very thing you oppose.
White beauty norms, wealth and lifestyle signaling, internalized audience biases against non-dominant identities…it's a minefield. 
Don't even get me started on the pressure to perform - to always be switched on and visible to your audience! It can feel almost impossible to keep up…
You don't have to keep up.


You just have to change the game.
Skip the generic platitudes, the daily content creation hamster wheel, the virtual highlight reel, and the glamorous photoshoots in luxury locations. 
Instead, show up with what you believe in and what you're working towards, and watch as an audience gathers.
Because when you say something that matters, people will come and

sit by the fire.
but how can we make it happen?
We can let our principles and our work lead the way, and use them as the basis for our own social media strategies and systems.
Instead of turning ourselves into brand characters, we can channel our inner convictions and existing content into effective social media posts.
We can create content that aligns with our business and culture-making goals so that everything we do functions strategically, on more than one level, and keeps working hard for us long after posting.  
And we can choose a culture-making visibility that creates reach AND revenue , starting right now.
What's Feminist Social Media all about?
This course includes strategy, tactics, a tech tutorial, a toolkit, and the content-creation processes you need to develop your visibility machine, using who you are and what you do as fuel. 
I'll take you on a tour of the current social media norms and explain how they contribute to the same system we're working to dismantle.
I'll show you how to set up your very own social media engine and walk you through some quick and easy exercises designed to help you download your heart and what you believe in. 
And then you'll take all of that — your big why, your beliefs and commitments, and your dreams for your clients — and turn them into a powerful social media strategy and system for sharing on social media. 
Because your vision for your client & our culture is your #1 visibility strategy.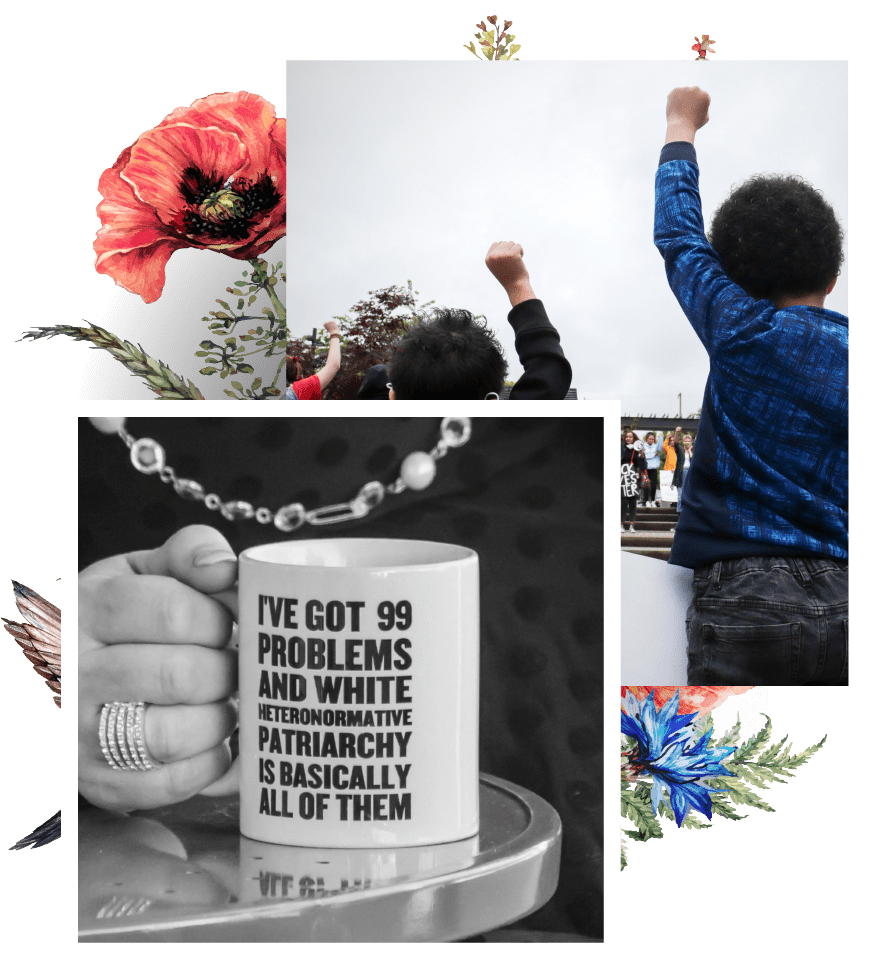 You want to get more visible online...and you fear it, at the same time
You're ready to show up as your authentic self online so that you can attract your ideal customers and clients
You want to take the stress out of creating regular, high-quality content and building a brilliant online brand
You want to get more visible online...and you fear it, at the same time
You're ready to show up as your authentic self online so that you can attract your ideal customers and clients
You want to take the stress out of creating regular, high-quality content and building a brilliant online brand
12 modules delivered over 12 weeks
With Q+A sessions - PLUS once you've completed the course, you'll get a certificate to show off in your bio, on your website, and, of course, on your social media platforms! Let your network know that you're committed to replacing harmful social practices and predatory sales tactics with high-quality social content.
Packed full of writing exercises, samples, case studies, tutorials, and to-do lists to help you put these transformative tips into action.
3 Months of Live Office Hours + Mighty Network Group
Three Months of Office Hours. Every Monday at noon PST from May 10 - July 26, drop in to ask questions, make connections, and get personal feedback from me about the content you're creating.
One year of access to the course materials and a Mighty Networks support group.
Here's everything we'll be covering
Part 1: Social Media is POWERFUL (It's both Political and Personal)
When you understand the politics of visibility and building power using social media, you can use that power for good. In Part 1, we'll cover the problems that can be solved with a feminist approach to social media. I'll also talk you through self-expression, choosing your medium, managing pushback, and understanding the politics of visuals.
Part 2: A Feminist (And Super Strategic) Approach to Social Media
When you want to get your vision and message out into the world, you need a powerful social media marketing strategy. In Part 2, we'll cover my Little Birds and Layer Cakes method, one layer at a time:
Layer 2:
Snippets and quotables
Layer 3:
Reminders to subscribe
Layer 5:
Sales pages and offerings
Layer 6:
Community Resources
Layer 7 and on:
Define your objectives, then build a layer for each
Producing consistently brilliant content (without burning out) is the ultimate key to successful social media marketing, and in Part 3, you'll learn how to do just that. I'll give you the prompts, rituals, and content pillars you need to make your content machine work for you, and then I'll show you how to make more impact with less effort. You'll learn how to batch and bundle your content, publish less and promote more, and make every post work harder for your brand.
Part 4: Systems, Scheduling, and Tech Automations
Who has the time to spend hours on social media, waiting for the right moment to post? Not you - and that's why Part 4 is all about mastering the art of curating, scheduling, automating and repurposing your social content. We'll talk through how you can build your own database of content and take the stress out of your social schedule with clever hacks and apps like Linktree, Zaps, and IFTT.
Part 5: Launches & Selling
Once your social media machine is running smoothly, it's time to make some money! In Part 5, I'll show you how one social media marathon can create a ripple effect for your business - as long as you remember the smart calls-to-action - and help you build your list. We'll also talk through the little things you need to know about launching a new product, course, or intake round without making a mess.
In the end, this is all about gathering a passionate, committed audience of people who are attracted to your work and your ideas -- not your lifestyle! -- and showing them the results of working with you using media images & messages that helps us create a future in which we all flourish. In the final part of the course, we'll talk about why relationships and being part of a feminist ecosystem is so important, how you can build one of your own, and what it could mean for your business. 
You'll also get cheat sheets, done-for-you social media swipe copy, video tutorials, and a 7-day plan for executing your strategy, all wrapped up in a culture-making context.  
At the end of our 12 weeks together , you'll leave with a plan, the knowledge and content you need to implement it, and the certification to show for your hard work. 
We start May 10. You get 12 weeks of live Office Hours, plus a year of access to the course materials AND the Mighty Networks support group.
Live, drop-in Office Hours take place every Monday at noon PST from May 10 to July 26.